It's been an extremely busy few months, and I'm ridiculously excited for what 2016 has in store!
In the whirlwind that was the end of 2015, we unexpectedly purchased and moved into a home that dreams are made of. After three years (and two kids) renting a home we outgrew, things were getting cramped. With no room to fit my equipment and supplies, I really had no place to work efficiently. This left me with almost everything in storage.
Frustrated and nearly at my wit's end, we had come to a major crossroads: Put the business on hold for even longer, rent a larger home, or miraculously make a deal work where we could buy a large home. We had been keeping an eye on the market for about a year, but we just didn't feel like we'd be in a position to buy for awhile yet.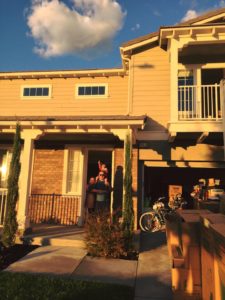 Thanks to some very wonderful sellers, along with the dedicated work of phenomenal miracle workers – our Real Estate Agent Jamie Durity and Jared Lee from Prime Lending – we were able to buy a gorgeous, spacious home that provides TWO separate work spaces devoted exclusively to Swatch Color!
This was absolutely thrilling news, especially since I've been trying to get things off the ground for 18 months. I've made a lot of progress, many mistakes (which I've learned from), and still have a ways to go…but having a dedicated space to work is a very HUGE step towards major progress.
We moved into our new home the week before Halloween…and I've been running on all cylinders ever since. Between moving, painting both houses, homemade Halloween costumes, hosting & celebrating our first Christmas (we usually travel to my husband Jason's parents in Arizona), custom-made giant family Christmas stockings, keeping up with a rapidly growing newborn baby, as well as trying to get unpacked, I feel like we haven't had much of a chance to come up for air.
I was able to soft launch Swatch Color last fall with a bit of product testing and custom orders for many of my customers on a project basis. It has been so thrilling to develop my own line of  products as well as navigate my way through learning how to embroider and sew.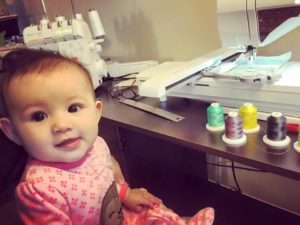 These days, you'll find me getting my equipment & supplies unpacked, set-up, and ready for production. I try to steal every waking moment to work while baby Joslyn naps. Sometimes I can even get a few bits of work done here and there with my handy sidekick! 🙂 Below is a time-lapse video of some unpacking & setting up my main studio space:
I've got a few exciting irons in the fire in terms of product offerings that I'll be publicly kicking off on my site later this year. I can't wait! The SUPER cool project I'm launching this spring/summer will most likely be the primary focus of Swatch Color in the coming year. Additionally, I am slowly developing a small line of home goods, apparel, branded goods, and textiles throughout 2016 and beyond.
It seems I've always got at least 10 million ongoing projects for family, friends, clients, or myself…but I'm going to make 2016 the year to devote to my business. I'm so excited to share my little handmade things of greatness with the world. Thank you for stopping by, and I hope in the coming months you'll garner inspiration for creativity.